Done-For-You B2B Sales Processes
B2B Sales Systems That Scale
Proven sales processes, technology, and coaching that drive you to uncharted revenue.
We solve problems.

Low Conversion Rates:
Optimize process inefficiencies, targeting/prospecting and messaging to maximize your conversions.

Outdated Systems:
Implement top technology stacks that fit your budget, are easy to use, and create tactile results.

Under Utilized Processes:
Implement and train your team on the top sales processes that your leading competitors are using.

Team Is In Flux:
Create a sales structure, coaching and recruitment that your company needs to build rock solid culture.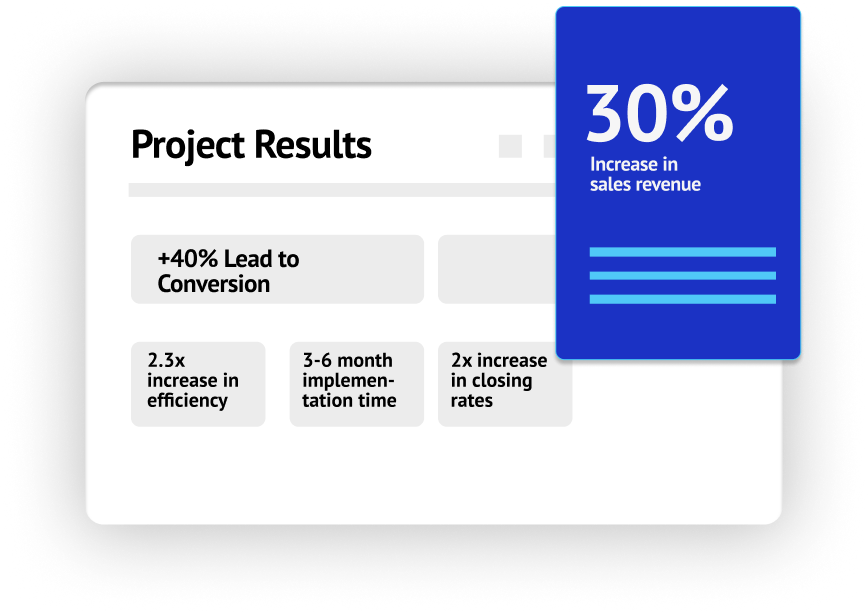 Foster Innovation
We foster an environment of innovation and equip our team with the best tools to get the job done. Bonus, we pass this learning and innovation on to you.

Modernize Sales Technology
Streamline sales processes with one powerful platform; increase efficiency and give your team more time to sell while reducing headcount turnover.

Supercharge Performance
Clients have seen an increase as much as 40X revenue after implementing our sales processes. We want to help you do the same as revenue = freedom.

Speed, Efficiency and Accuracy
Our average sales program takes 3 months to implement. As Entrepreneurs ourselves, we understand time = money. We move fast, efficiently and accurately.
CASE STUDY | NOVAMEN
Modernization of Sales Program Leads to 40% Increase in Revenue in 10 Months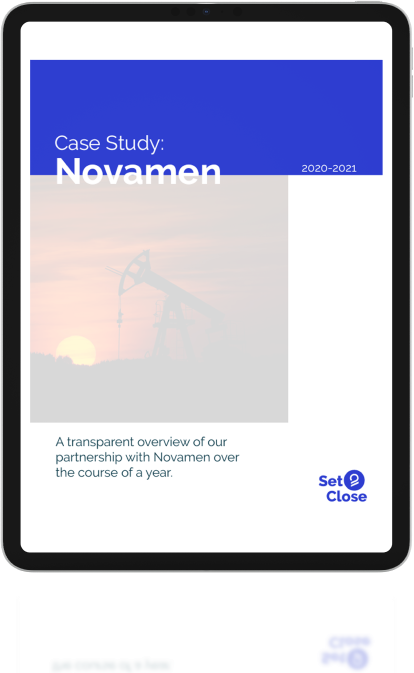 The Sales Formula Process
Step 1:
Strategy and process development
Step 3:
Demand generation and sales centric marketing
Step 5:
Recruitment and team optimization
Step 2:
CRM build out and tech implementation
Step 4:
Team coaching and fractional management
Our Services
Systematically combine traditional selling techniques with new strategies. We are not just consultants, but a team built of do-or-die revenue operations & sales experts. Unlike consultants we strategize, implement and coach your team. Allowing you to focus on what you do best.

Sales Program Strategy And Development
Proven, well rounded strategies that utilize traditional sales methods fused together with modern technology to supercharge revenue and increase sales team efficiency.

CRM Development Build Outs
Double sales team productivity, lead conversion and increase team morale by implementing a CRM built for scalable sales process management.

Inbound Marketing
Fill your sales pipeline with the highest quality leads through inbound marketing campaigns and demand generation.

Account Based Marketing
Meticulously crafted campaigns that target your highest desired accounts to maximize cost effectiveness and lead quality.

Sales Team Recruiting and Optimization
Cut recruitment costs, minimize time-to-fill positions, reduce unnecessary expenses, and ensure that every hiring decision contributes to your company's growth and success.

Fractional Sales Management & Coaching
Investing in your team's development is one of the surefire ways to drive success in today's increasingly competitive and complex business landscape.
Jordon and his team are incredible. They know how to get the job done and deliver woth exceptional quality, value, insight and experience. Best of the best! I highly recommend
We have been working with Set2Close for the last 3 months and the impact has been immense! They found our first Sales hire and he has been a superstar since day one. We highly recommend these guys to kickstart your in-house sales team.
Jordon & set2close have helped me with sales process, team development and growing my business for many years. They have helped increase my opportunities to bid on and win new jobs and build a team to perform at the highest levels. They are highly responsive and go the extra mile to make sure they deliver on their promises.
I have been working with Jordon for the past year. Jordon goes above and beyond always! He is continually looking for ways to help me be successful and provides me with strategies, resources and support. His knowledge, experience and success in marketing makes him a great coach and mentor!
A top-ranked sales company in Canada
"Set 2 Close structured a concise plan, communicated the progress consistently, and was always accessible."
Brian Shumate
"They weren't trying to force us down a pathway that worked best for them."
Joel Edwards
"Set 2 Close empowers, enables, and breeds successful outcomes."
Andrew Crawford
"It's not a surprise recruiting sales talent, managing, and setting them up for success. They did it effortlessly for us."
Alexander Ivanov
"It felt like working with good friends while also working towards goals effectively."
Anonymous
"They were honest, professional, and full of energy and integrity."
Darren Lamothe
"Their personalities were aligned with ours. They were motivated people who would stop at nothing to achieve the goal."
Jonathan Sturgeon
Get started on the path to unchartered revenue in three easy steps:
1. Book a Discovery Call
Discover how we can deliver supercharged results for your company.
2. Sales Audit
Get a free look under the hood of your organization from world class experts with zero obligation.
3. Proposal
Our team will craft a step by step outline that will propel you towards your business goals.
Get free weekly sales advice
Sign up for our weekly newsletter for a quick sales tip delivered straight to your inbox each week
Frequent Questions
How are you priced?
We are priced by the project. All projects vary in cost due to individual needs. It's our priority to make our expenses as feasible as possible for your organization. We have custom payment plans available to suit your needs.
How long is the standard project?
Typically our projects range from 3-6 months. Project times can go longer if required by your team. Some team's need longer timelines to adapt to the changes, produce deliverables and more.
What are buyer centric sales?
Buyer-centric sales is an approach to selling that focuses on understanding and meeting the needs of the buyer. It involves shifting the focus from simply pitching products or services to creating a personalized experience for each buyer.
How does buyer-centric sales differ from traditional sales?
In traditional sales, the focus is primarily on the seller's goals and objectives, such as meeting sales targets or promoting specific products. Buyer-centric sales, on the other hand, places the buyer at the center of the process, aiming to understand their unique needs, challenges, and desires.
What are the key principles of buyer-centric sales?
The key principles of buyer-centric sales include:

Understanding the buyer: Taking the time to comprehend the buyer's situation, pain points, and goals.
Personalization: Tailoring the sales approach and solutions to address the buyer's specific needs and preferences.
Building relationships: Establishing trust and rapport with the buyer by demonstrating expertise, empathy, and genuine interest.
Providing value: Offering solutions that align with the buyer's goals and deliver tangible benefits.
Continuous communication: Maintaining an ongoing dialogue with the buyer, even after the sale, to ensure satisfaction and foster long-term relationships.
Can you optimize my CRM?
Yes we work within your CRM to align with the advanced b2b sales processes that we development this typically looks like:
Customized CRM configurations: Tailor your CRM system to meet the specific needs of B2B companies, such as integrating with other B2B tools or customizing sales processes and pipelines.
Advanced data management: Implement advanced data management techniques, including data segmentation, account hierarchies, and lead scoring, to ensure effective lead tracking and sales prioritization.
Advanced reporting and analytics: Utilize advanced reporting and analytics features to gain insights into sales performance, pipeline health, and customer behavior, allowing for data-driven decision-making and strategic planning.
Integration with sales enablement tools: Integrate your CRM with sales enablement tools like content management systems, email automation platforms, or proposal generators to streamline sales processes and enhance efficiency.
Automation and workflows: Leverage advanced automation and workflow capabilities within your CRM to automate repetitive tasks, streamline lead nurturing, and ensure timely follow-ups.
Sales coaching and training: Offer customized training and coaching programs for sales teams to maximize their usage of CRM features and optimize sales processes.
CRM security and compliance: Implement robust security measures to protect sensitive customer data and ensure compliance with relevant regulations, such as GDPR or CCPA.
Who do you typically work with?
We work with primarily B2B companies. The industries within the B2B sect does vary, we've worked with everyone from distribution and manufacturing to SAAS to professional services and everything in between.
What kind of results can I expect?
Our programs end goal is always to increase revenue for your company. Everything we do focuses on three key factors within your companies sales program:
1. Sales efficiency to increase booking to close
2. Team collaboration & individual skill development for increased performance/output.
3. Advanced sales processes that prioritize the buyer for more effective closing rates.

Set 2 Close helps business owners, sales & operations executives and their teams get the most out of their revenue operations processes. By combining our holistic B2B sales strategies with customized CRM development, Inbound marketing and Customer Success services, our clients gain the boost in sales productivity and efficiency they need to increase company revenues.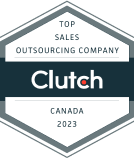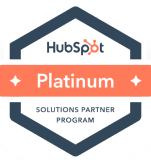 ®Copyright 2023 Set2Close